Adventures on the Farm
Our farm has been in my husband Joe's family for 90 years. When Joe's mom was very young, her parents moved here.
We're not exactly sure how old our barn was but it's older than the house and the house is nearly 120 years old.
So when Joe decided to take down the barn so he could build a new, heated shop, I was a bit skeptical. What would it cost? How much work was involved? And was he sure he wanted to demolish all that history?
He contracted with Rick Bartelt of Bartelt, the Remodeling Resource to do the demolition and clean-up. Bartelt will use the nice, old beams in his future construction projects. The rest was ours to keep.
It's done now so there is no looking back. However I did make sure to take dozens of photos and some video so I could preserve it in our memories.
Here is our week
Tuesday, June 30 — Sunday, July 5, 2015.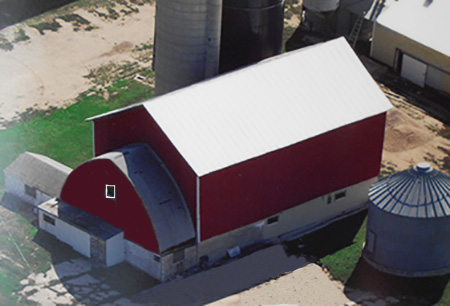 Barn before June 30, 2015
It was a great day! But it was also an uncertain and scary day. It was April 16, 1997. Our cows walked out of the barn for the last time; we were no longer dairy farmers. We had just made a life-changing decision. Would it prove to be the right choice?
My husband Joe and I managed our dairy farm and milked cows for 20 years. For the latter half of those years, we struggled with stray voltage, an insidious phenomenon that has destroyed whole herds and their owners. Our case wasn't quite that bad; it didn't kill our cattle or cause health issues for us. It did, however, cause health problems in our cows, which resulted in lower milk production. Because our income was based on pounds of milk produced, it hurt our bottom-line when any cow did not produce to standards. 
Our vacation started off great! Everything was going according to our plan. It was 7:45 a.m. on Monday, September 9 when my husband Joe and I hit the road, heading west. Weather was beautiful and as we drove southwest into Iowa and then Nebraska, the temperature continued to rise. Our car thermometer hovered around 100º most of the day. 10 hours later we found a motel in Grand Island, NE. It was still very warm so we took a little walk over to a nearby park and walked around the lake just before sunset.
Tuesday started out very much the same as the day before. We pulled out of the motel parking lot at 7:45 and soon after entered Mountain Time Zone. It's always nice to gain that hour! By 2 p.m. we arrived at our destination, our daughter Andrea's home in Fourmile Canyon, west of Boulder, Colorado. Andrea just moved into this house with her boyfriend Aaron 10 days prior to our arrival. The back of our Escape was loaded with things Andrea couldn't fit into her car for the move.
Back in July, Andrea and Aaron found the mountain home for rent and were very excited when they learned they had been accepted. Soon after we arrived, we unloaded the car and took a tour around the home and yard. The house was originally a mining cabin 150 years ago and looks like it has had several additions over the years. I described it as amazing and weird at the same time. The bathroom is built around the mountain rock. Yes - the rock is part of the wall and part of the bathroom!
Some blog posts take longer to write than others. Some blog posts are written in a matter of minutes. Some take hours or perhaps days. This blog post has taken me months to write.
You see, in February of this year my Dad was diagnosed with lung cancer and he passed away less than 4 months later, on May 31. In January I would have not understood if you would have told me this sequence of events would have a profound effect on me.
I have not written a blog post since April. I did post my email newsletter to my blog and that seemed to work ok in lieu of actually writing here. I even considered giving up the blog altogether.
Our farm has been an exciting place this summer (2012). We have had record-setting heat and drought in Wisconsin, like so many other states. That's the downside. The upside is my garden looks great (I watered a lot) and I'm canning vegetables like I haven't canned in years. More on that later.
I will begin with our chicken adventures. If you are an experienced chicken farmer, you will find these chronicles silly and a waste of time so please go to the other links on this site so you can learn about web design. For those of you who don't know very much about chickens, I hope you find my adventures mildly entertaining and perhaps learn something along the way.
We are not strangers to raising our own chickens for meat. Both my husband Joe and I have helped our parents butcher chickens and Joe's parents had chickens for laying eggs on the farm for many years. However we had no experience actually hatching our own eggs. Our families always bought 100 - 150 two-day old chicks and raised them from that point. We had a few things to learn!
A few years back Joe's brother bought eggs, incubated, hatched, and raised them. A few of those chickens ended up on our farm. So for the last couple years we had 2 or 3 laying hens and 2 roosters. Several weeks ago we had an over abundance of eggs in the house so Joe decided to stop collecting eggs and let nature take its course. What the heck – let's see if we get babies. If not, it's only a few eggs lost.
When the last egg was laid, the count was 5. They were all brown eggs so they all belonged to Red but Gray was sitting on them as if they were hers. Occasionally one of the hens would get up for a short time and walk around outside but for the most part, there were 2 hens in the nest. The 5 eggs should be plenty warm with 2 mamas and extremely warm temperatures both day and night. But the question remained - would we see baby chicks? We should have our answer in about 3 weeks.
By the time we found the 1st 2 chicks they were 1 and 2 days old. It was so amazing to see how the hens took care of their babies. 1 yellow and 1 black. Red had a sister who was black so we think the black chick will stay black.
In less than a week we now had 4 new chicks, all of them doing very well. We had 1 egg left in the box under the light and it was cracking. We could even see the chick moving in the little hole in the egg. Joe wanted to help the baby out by cracking the egg but I thought we should let nature take its course. When he helped chick no. 3 it took much longer for her to get up and going and I didn't want that to happen again.